WOODBRIDGE TOWNSHIP PRESENTS
LESLIE MENDELSON | CHRISTIAN LOPEZ
Saturday, April 1, 2023 at 7:30 PM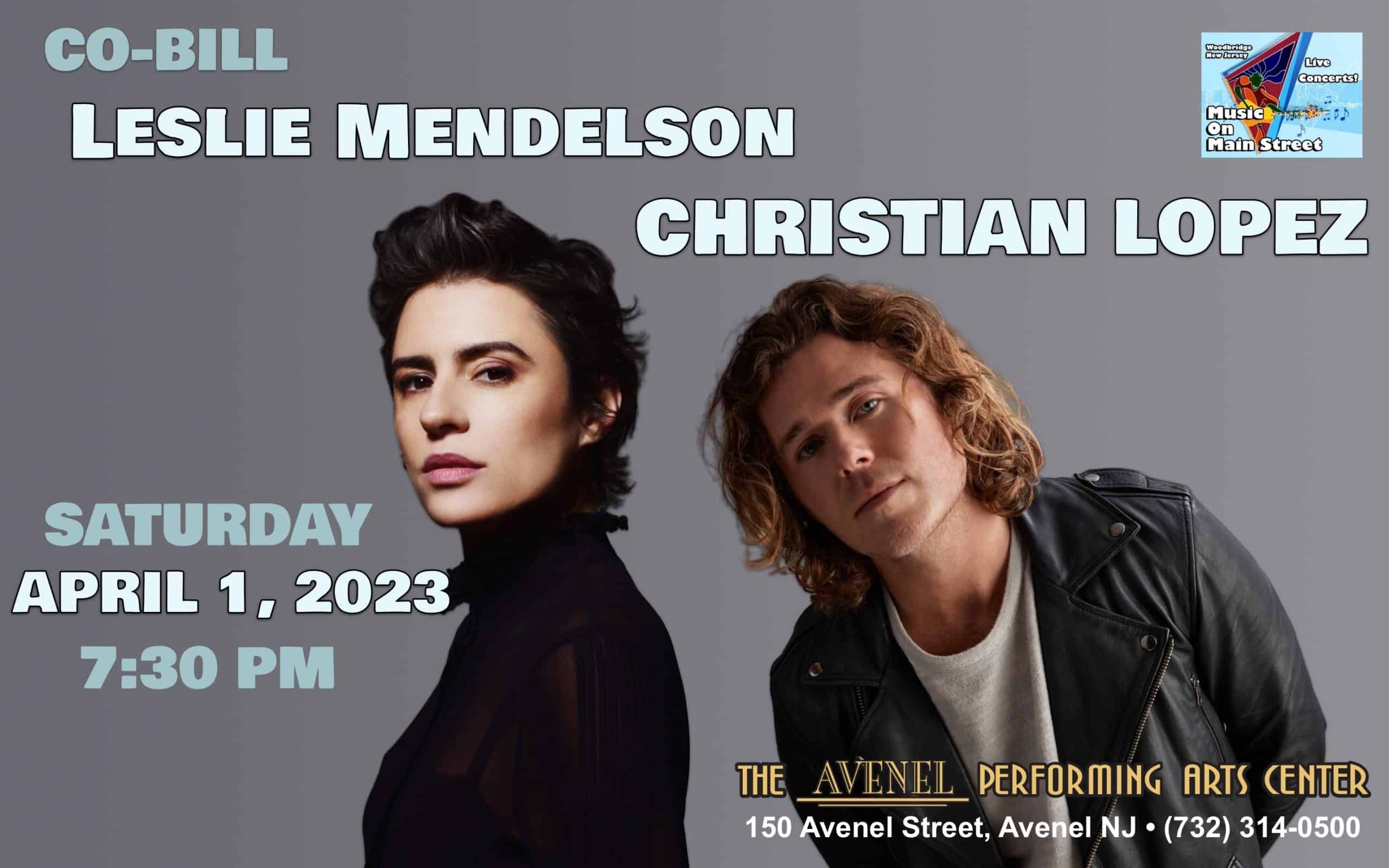 Or call the Box Office at 732-314-0500
Woodbridge Township's Music on Man Street is pleased to present solo performances of two amazing singer songwriters on one co-bill.
West Virginia native Christian Lopez was named by Rolling Stone Magazine as "Best Newcomer" at the Americana Music Festival in 2015. Christian's 3 full length CD releases "Onward" (2015), Red Arrow (2017) and "The Other Side" (2021) translates the iconic America before him with crisp and thoughtful imagery and storytelling.
Brooklyn-based Leslie Mendelson is supporting her most recent studio album 'If You Can't Say Anything Nice…,' as well as a solo acoustic EP 'In The Meantime'. All Music writes that Leslie evokes "1970s songwriter influences in the vein of Carole King and Carly Simon". Leslie's duet with Jackson Browne for the documentary film,'5B,' was released in 2019. Leslie has also worked with The Grateful Dead's Bob Weir who recorded a duet with her on Roy Orbison's standard, "Blue Bayou," as well as being invited by The Who to open for them at Madison Square Garden.
Woodbridge Township presents Leslie Mendelson | Christian Lopez at The Avenel Performing Arts Center with support from Woodbridge Arts.

---
WOODBRIDGE TOWNSHIP PRESENTS
SHAWN MULLINS
Sunday, April 2, 2023 at 7:00 PM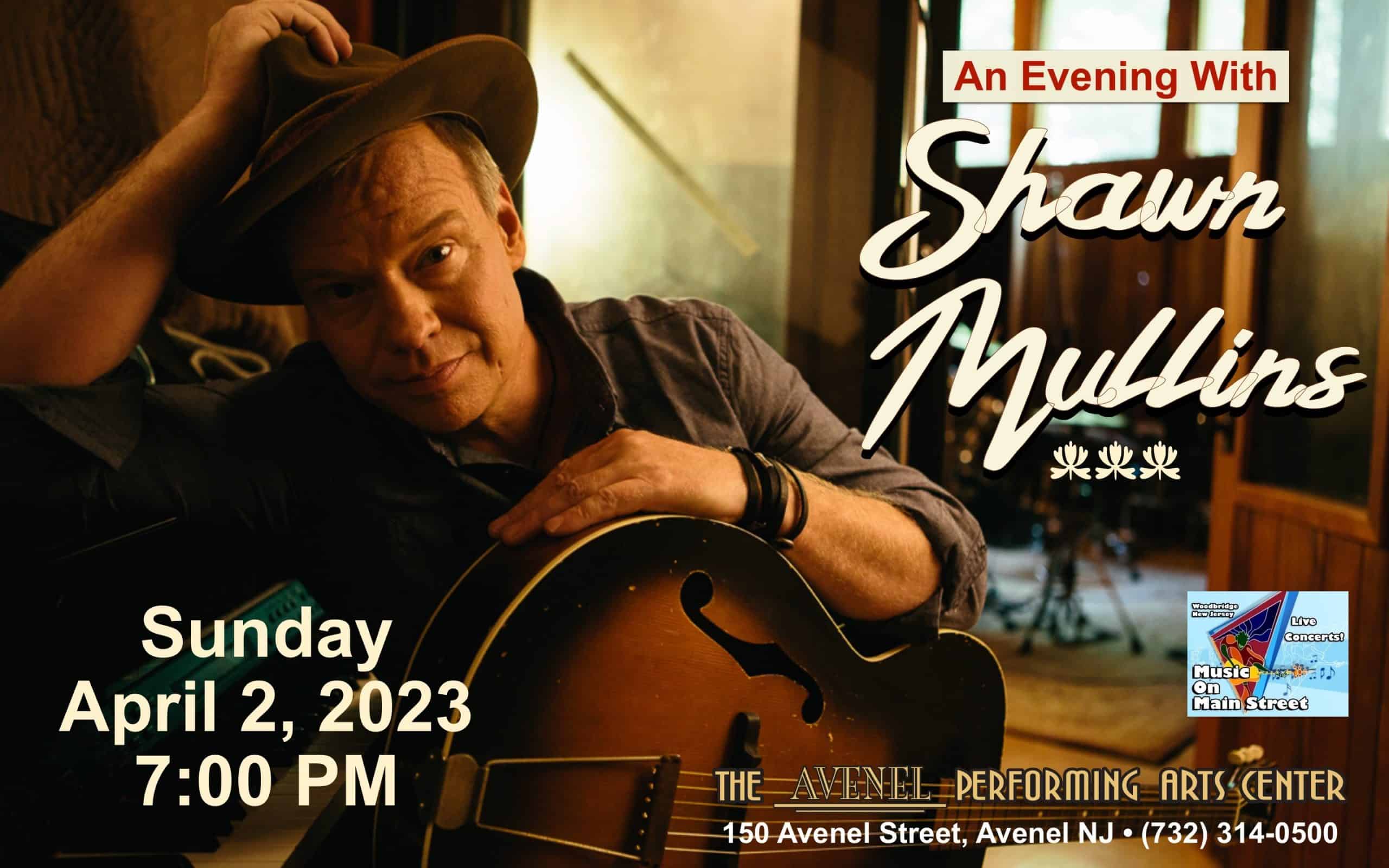 Or call the Box Office at 732-314-0500
Shawn Mullins is an American singer-songwriter who specializes in folk rock, instrumental rock, adult alternative, and Americana music. He is best known for the 1998 single "Lullaby", which hit number one on the Adult Top 40 and was nominated for a Grammy Award. After a series of indie releases and growing buzz in the Atlanta music scene, Shawn Mullins' critical and commercial breakthrough came when his 1998 release "Soul's Core" shot him to fame followed by AAA/Americana No. 1 hit "Beautiful Wreck" from 2006's 9th Ward Pickin' Parlor.
His song, "Shimmer" was used in promotion of the 2000 Summer Olympics in Sydney and was included on the Dawson's Creek soundtrack. His co-write "All in My Head" from 2008's Honeydew was featured in episode one of the hit TV sitcoms "Scrubs." Mullins also co-wrote the Zac Brown Band's No. 1 country tune "Toes."
In early 2002, he formed super group The Thorns with Matthew Sweet and Pete Droge.
"No Blue Sky" from the resulting album, is a modern-day classic. For the 20th anniversary of his breakthrough album, Shawn revisited the music of Soul's Core by recording two new versions of the album. He calls this Soul's Core Revival. This is not a remix or a remaster of the original, but rather brand-new recordings with new arrangements of the songs – one album is stripped down solo performances, some on guitar, some on piano and maybe one a cappella and the second is a new studio recording with his full band, Soul Carnival.
Woodbridge Township presents Shawn Mullins at The Avenel Performing Arts Center with support from Woodbridge Arts.

---
WOODBRIDGE TOWNSHIP PRESENTS
AN EVENING WITH RHETT MILLER
Saturday, May 6, 2023 at 8:00 PM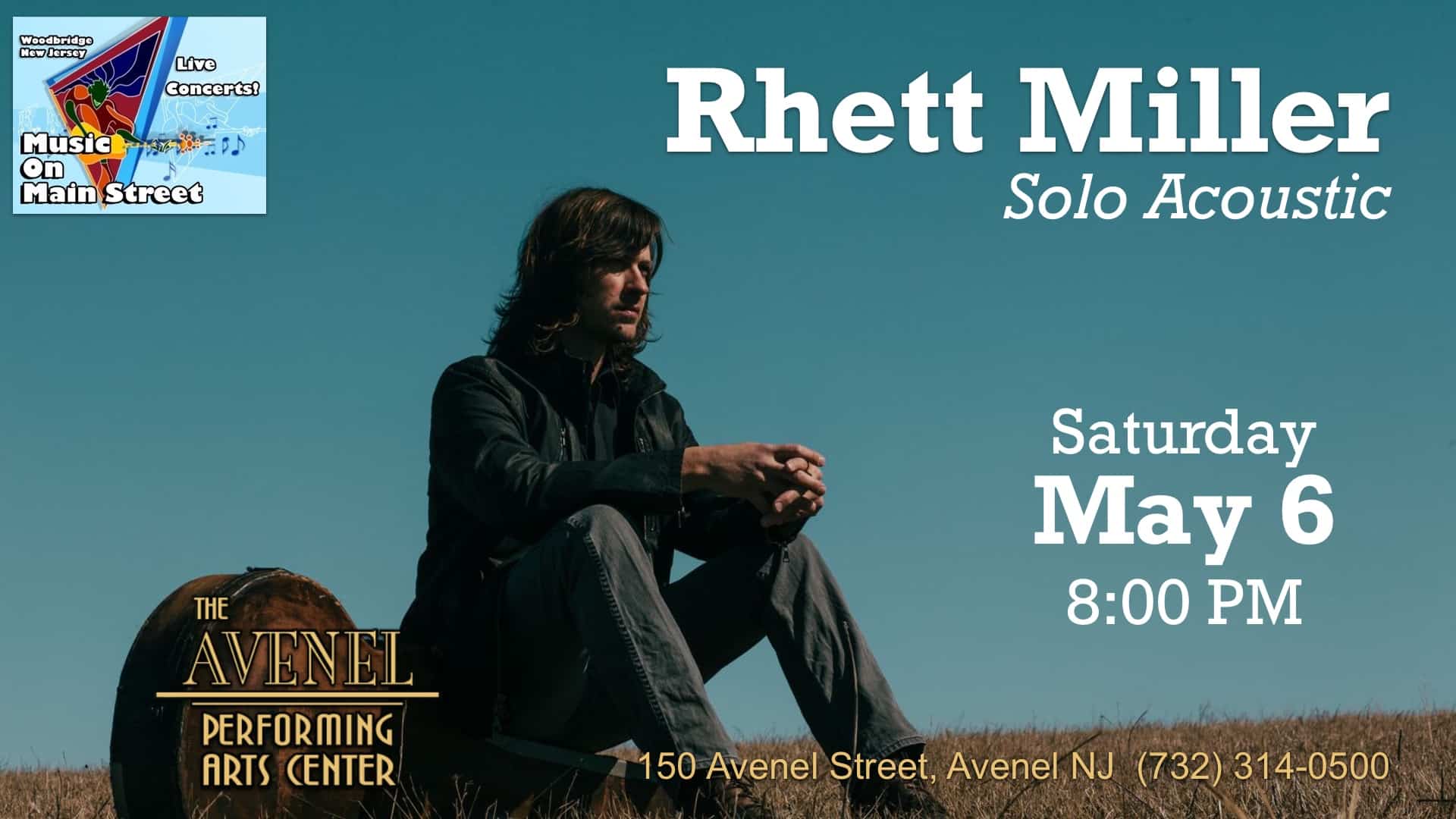 Or call the Box Office at 732-314-0500
Rhett Miller II is the lead singer of the country rock band Old 97's. He also records and performs as a solo musician and has been published as a writer of both fiction and non-fiction. This show will be an acoustic solo performance In 1993, Miller and childhood friend Murray Hammond formed Old 97's as a three-piece acoustic act along with their Dallas neighbor guitarist Ken Bethea. They played as a three piece for six months before adding Philip Peeples who has remained the band's drummer ever since. After a sold-out SXSW showcase in 1995, Old 97's found themselves the subject of a major label bidding war with Elektra Records finally inking the band to a multi-album deal.  From 2002 through 2018 Miller released seven solo CD.s while still releasing work by the Old 97's. These included his 2006 release The Believer which included a duet with Rachel Yamagata on a song called Fireflies, and his 2012 release called The Dreamer which included collaborations with Roseanne Cash and Ben Kweller. In 2015, Miller released his sixth solo record, called The Traveler, on ATO Records. The album was recorded with a Portland, Oregon-based bluegrass band called Black Prairie, which includes members of The Decemberists and features contributions from Peter Buck and Scott McCaughey of R.E.M.and in 2018 he released his next solo effort The Messenger.
Woodbridge Township presents An Evening with Rhett Miller at The Avenel Performing Arts Center with support from Woodbridge Arts.

---
WOODBRIDGE TOWNSHIP PRESENTS
JAMES MADDOCK AND IAIN MATTHEWS CO-BILL
Sunday, May 7, 2023 at 3:00 PM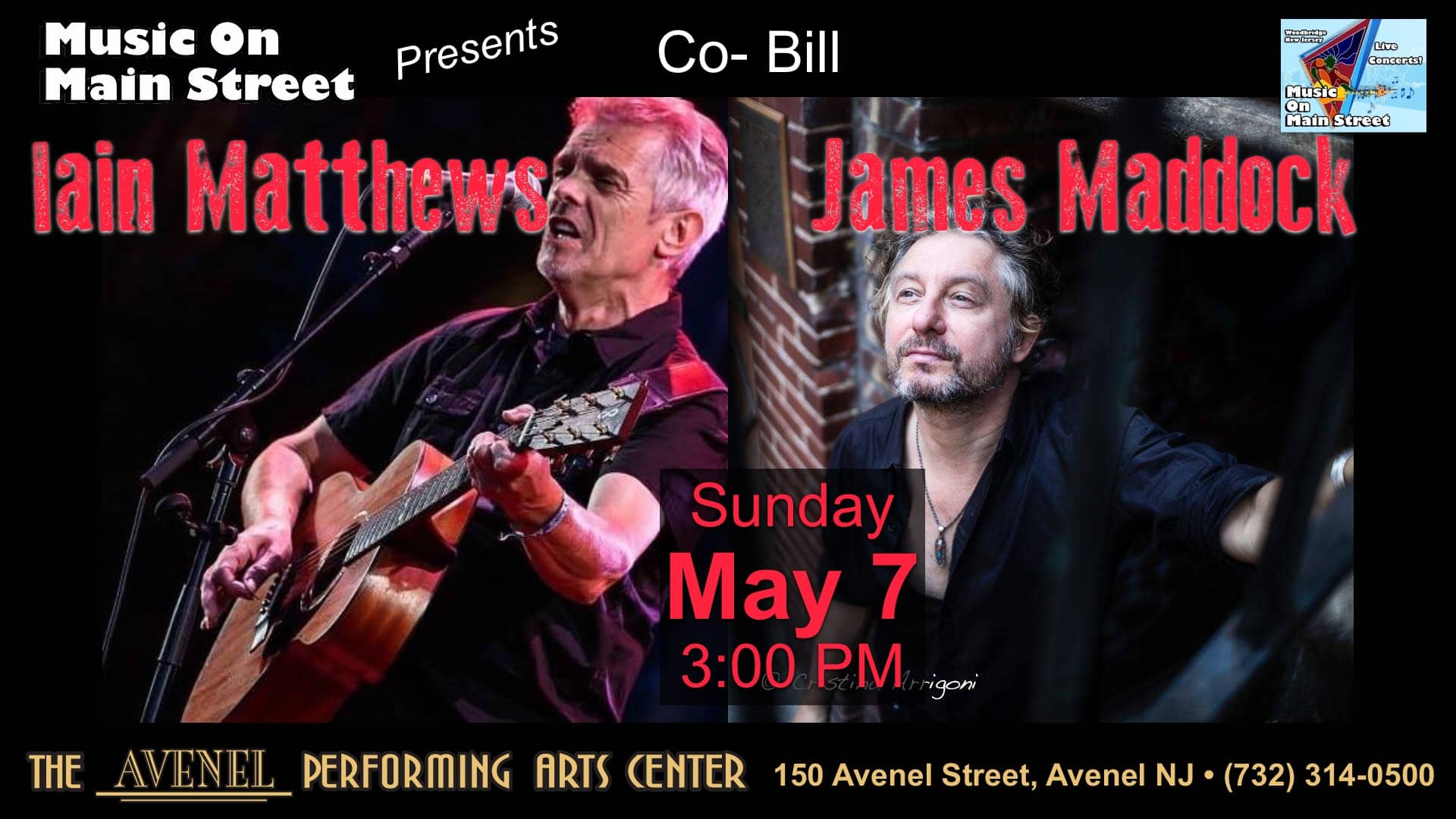 Or call the Box Office at 732-314-0500
A rock & roll lifer, James Maddock has been carving his unique path since the 1980s, when the British-born singer/songwriter kicked off his career with a raw, soulful voice; a storyteller's sense of narrative; and the ability to blur the lines between folk, classic pop, and rock. Since those early days in London, he's ridden the wave of a music industry that's ebbed, flowed, peaked, and crashed. Maddock has stayed afloat throughout the entire ride, enjoying a brush with commercial success during the late 1990s — including a major-label record deal, a Top 5 AAA radio hit, and a song placement on Dawson's Creek — before transforming himself into an independent solo artist during the decades that followed. Bruce Springsteen is a fan. So is David Letterman. Listening to Maddock's newest record, Insanity vs Humanity, it's easy to see the appeal.
Iain Matthews is an English musician and singer-songwriter. Influenced by both rock and roll and folk music, he has performed as both a solo artist, and as a member of various bands including Fairport Convention where he sang on their first three albums before leaving in 1969. He subsequently formed the bands Matthews Southern Comfort which had a UK number one in 1970 with a cover version of Joni Mitchell's song "Woodstock". and the band Plainsong. In 1979 his cover of Terence Boylan's "Shake It" reached No. 13 on the US charts. He continues to tour regularly with the current version of Matthews Southern Comfort and their new CD "The New Mine" was released in March 2020. In a career spanning over fifty years he has featured on over 100 albums and in 2018 published an autobiography co-written with author and broadcaster Ian Clayton, "Thro' My Eyes: A Memoir'', about his life in the music industry.
Woodbridge Township presents James Maddock and Iain Matthews at The Avenel Performing Arts Center with support from Woodbridge Arts.