Show Times
February 9, 2022 8:00 pm

February 10, 2022 8:00 pm

February 11, 2022 8:00 pm

February 12, 2022 8:00 pm

February 13, 2022 3:00 pm
About The Show
THE HOUSEWIVES OF SECAUCUS: WHAT A DRAG! spoofs those popular housewife shows you love to hate. Hold onto your wigs, because five queens of the Garden State are about to 'werk-it' at the annual Mad Hatters Brunch – competing for 'Best Hat', 'Woman of the Year' and even mayor of 'Beautiful Secaucus, New Jersey.' Who will be unfriended? Who's having an affair with who? Could the competition be…dun dun dun…rigged? Queens are spilling tea everywhere at this interactive extravaganza!
Story Brief
Other Upcoming Shows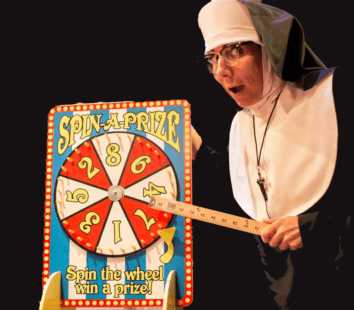 Late Nite Catechism: Las Vegas
February 23 2022 - February 27 2022
Sister rolls the dice! Don't forget: "What happens in Vegas stays in Vegas", but God sees everything!
Read More