Show Times
April 29, 2021 8:00 pm

April 30, 2021 8:00 pm

May 1, 2021 8:00 pm

May 2, 2021 3:00 pm

May 6, 2021 8:00 pm

May 7, 2021 8:00 pm

May 8, 2021 2:00 pm

May 8, 2021 8:00 pm
About The Show
Anthony Pinnunziato, a gay Italian-American from a large chaotic family, wants to marry his boyfriend Andrew Polinski in a traditional Italian ceremony. Anthony's overbearing mother won't give her blessing unless Andrew's estranged mother also gives her blessing and the ceremony is performed by a priest. Matters are further complicated by Andrew's ex-boyfriend, intent on breaking up the couple. My Big Gay Italian Wedding satirizes the controversy surrounding same-sex marriage while drawing on larger than life gay and Italian characters.
Other Upcoming Shows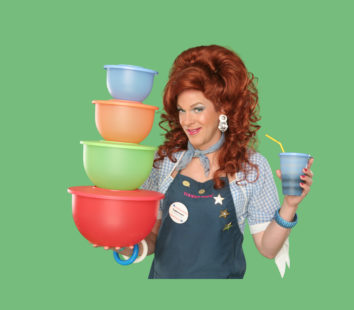 Dixie's Tupperware Party
June 3 2021 - June 6 2021
Not Your Grandmother's Tupperware Party!
Read More