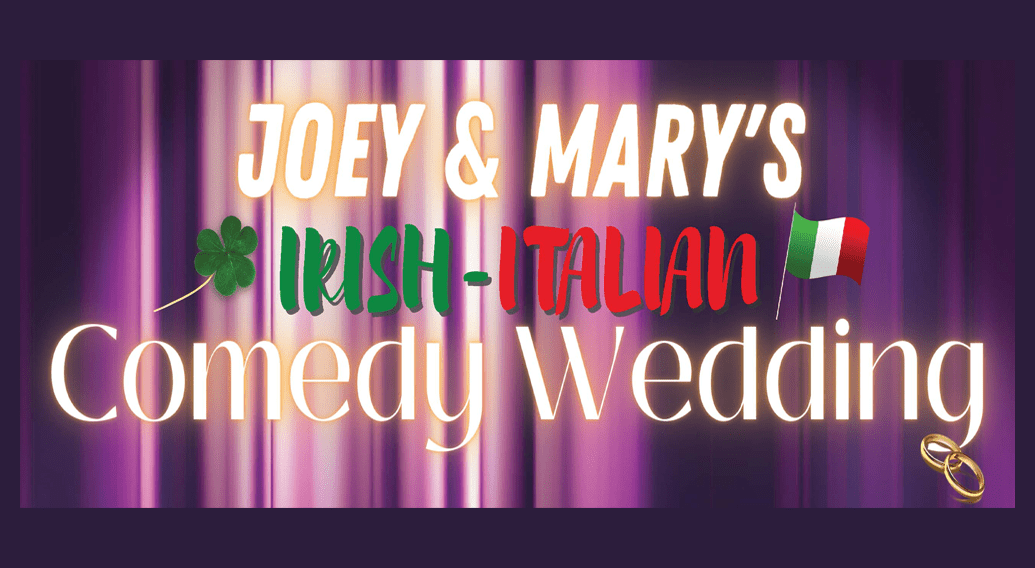 Joey and Mary's Irish/Italian Comedy Wedding
Buy Tickets
Show Times
January 20, 2023 6:00 pm

January 21, 2023 6:00 pm

January 22, 2023 3:00 pm
Ticket Prices
Limited seats remain for Fri., 1/20 and Sat., 1/21. The Sun., 1/22 show is sold out!
$65.50 plus applicable fees. Includes gratuity. Price includes a dinner featuring classic Italian dishes. Cash bar is available separately. **Please Note This Show is NOT included in our 3-, 5-, or 7-Ticket Packages**
About The Show
The 'Mother' of all comedy weddings, Joey and Mary's Irish/Italian Wedding is a nationally acclaimed interactive dinner theater experience where the audience, that's YOU, are invited to be the guests at the wackiest wedding of all history! Presented by New York Dinner Theater, this audience-participation filled show blurs the boundaries between fantasy and reality, witnessing the most hilarious wedding ceremony you've ever seen! Watch out for Joey's Nonna, she might pinch your cheeks and start gossiping about everyone in the old neighborhood. Throughout the reception, Joey, Mary and their families greet and mingle with their wedding guests, making the evening a night to remember where the audience is encouraged to participate as they can dance the tarantella, catch the bouquet, waltz with the bride or groom, or just relax and watch the fun as the groom's ex-girlfriend crashed the wedding! If that wasn't enough drama for the evening, Joey's Godfather, "Don Ziti," finds out that his gift for the happy couple was stolen by one of the guests and he won't rest until the thief is caught!
Story Brief